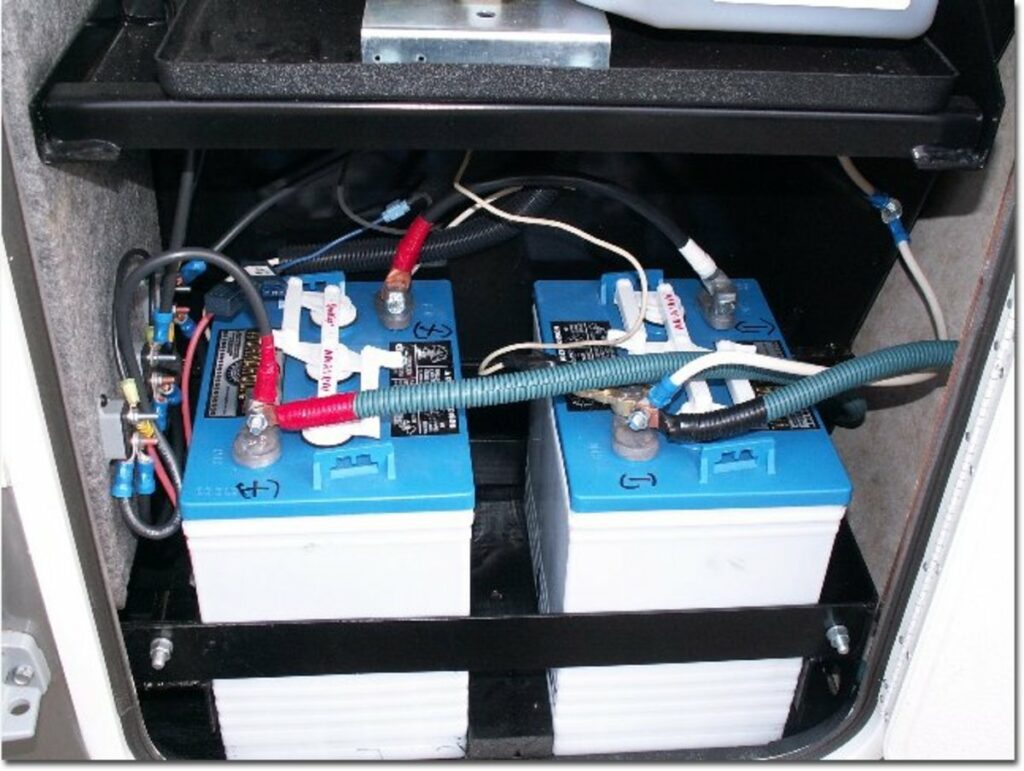 Planning on hitting the road anytime soon in your motorhome? It is important to do a routine maintenance check to ensure you don't spend half your time stuck on the side of the road. One of the first things you must look at is the motorhome's batteries.
Most campervans have two batteries: one that runs the engine (i.e., the standard battery) and one that runs the appliances. The battery that supplies the remaining power over a sustainable period keeps your motorhome's lights on, lets you watch the television, and lets you cook on the stove.
You could always use a standard car battery to power your motorhome, but it isn't recommended to do so because of the differences in the requirement of the two battery types.
Types of Motorhome Batteries
Choosing the right type of battery for your RV or motorhome is fundamental to its smooth operations. Not all batteries are the same, and most motorhomes have lead-acid batteries. However, it's worth exploring alternatives that may be more viable than traditional batteries.
You can opt for a gel battery, usually found in vehicles such as jet skis and quad bikes that are more susceptible to collision and damage. It can also be used in a campervan to minimize the risk of unwanted accidents from a corrosive battery acid leak.
You can also go for maintenance-free batteries, which are fundamentally different from conventional batteries. They have sealed units instead of caps. However, you can't check acid levels or top it up with water to increase its longevity.
Another viable option you can consider purchasing is the absorbent glass matt (AGM) battery, known for its longevity compared to lead-acid batteries. The cells in these batteries can be a bit more expensive than traditional ones, but from an investment point of view, they might be worth the extra cost due to their durability and functionality.
Lastly, you can opt for lithium batteries which are currently the talk of the town. They are now found in most modern applications and appliances. They are suited to motorhomes because of their impeccable power provision. They can provide similar energy as a lead-acid battery for around half the size and weight of the battery. In addition, their longer life span and frequent recharging capability make them ideal for campervans.
Motorhome Battery Maintenance
You must keep a few things in mind to ensure that your battery is in peak condition whenever you head out for an excursion. No battery is guaranteed to last a lifetime, and you should expect the performance of your motorhome batteries to decrease over time. Typical lead-acid batteries may last about five years, while lithium-ion batteries can last longer.
Proper maintenance and upkeep will ensure that your battery has the longest life possible. You should always use good quality clamps for power and if using spring-loaded clamps, make sure they don't have any rust.
Consider applying grease to the terminals after fitting the clamp to prevent corrosion. Regularly inspect your batteries to ensure they are in top condition and have no leaks. Don't allow the battery to go completely flat, as it might reduce its lifespan considerably.
The type and size of the battery you install depend on how you plan to use your motorhome. Keep in mind the types of places you like to go and whether they have electrical charging stations. If you want to go off-grid, then the situation changes considerably.
The range and type of appliances on your motorhome will also influence your battery purchase decision. LiFePO4 batteries can be a viable option under every circumstance as their flexibility, mobility, and lightweight with extreme power will come in handy in motorhome applications.
Investing in LiFePO4 Lithium-ion Batteries
LiFePO4 lithium batteries are a great option for motorhomes. Even though they might be a bit more expensive than lead-acid batteries, they provide amazing utility, and their durability, combustion-free properties, lifespan, and reliability make up for their cost. They also offer slow-discharge rates and incredible power that can be enough to power the appliances and your motorhomes.
However, not everyone can provide you with Grade A cells used to create quality battery packs. You should always look for a manufacturer who can provide customized battery packs for your unique applications at affordable prices. If you're looking for such a supplier or manufacturer, you've come to the right place!
Premium Motor Battery for Sale at Ezeal
Are you a motorhome battery manufacturer looking for quality cells? Are you a campervan owner looking to transition from a lead-acid to a lithium battery? Ezeal stocks world-class products and offerings that are used in various domestic and international applications. Our state-of-the-art manufacturing process ensures that we create quality batteries used in motorhomes.
Our impeccable product range and the ability to customize products for unique needs and requirements have won us several plaudits throughout the years. We take pride in supplying the best products and aim to go above and beyond to provide our customers with world-class services. With us, you are guaranteed the best; we also offer a money-back guarantee! We will leave no stone unturned when providing customized battery solutions.
Ezeal is your trusted partner when it comes to providing Grade A cells that are used in various complex applications. We have worked with golf cart battery manufacturers, solar power users, e-bike owners, and others to provide them with impeccable products.
Our state-of-the-art engineering processes, innovation, and modern technology have enabled us to become one of the best in the business. We always prioritize customer satisfaction which reflects in our consumer-friendly policies. Our representatives will provide comprehensive information about our products and how they can be used for your unique needs and requirements.
We promise fast delivery and can even provide same-day delivery services to locations at a particular distance from our local Houston warehouse. We have partnered with UPS, FedEx, and DHL to provide our customers with instant and seamless deliveries.
Get in touch with our representatives today to learn how we can help you!